30+ Uses For Duct Tape While Camping
This is a sponsored post written by me on behalf of T-Rex® Tape.
All opinions are 100% mine.
We took advantage of the fabulous weather this fall to reconnect with nature and do some riverside camping in West Virginia. If you've been camping before, you know there is no shortage of "Camping Stuff" that you need to take with you, and nothing is more important in our camping supplies than a good roll of duct tape. We learned at an early age that duct tape can be utilized in thousands of situations, but not all duct tape is created equal. There's a famous saying, "If you can't fix it with duct tape, then you're not using enough duct tape." Now that we've tried T-Rex's Ferociously Strong Tape, we have updated that saying to be more accurate.
"If you can't fix it with duct tape,
then you're not using T-Rex® Tape."
Unlike ordinary duct tapes, this ferociously strong tape is built for intense holding power so you can tackle long-lasting repairs. The double-thick, super-aggressive adhesive offers superior hold on more surfaces than other tapes – including rough and dirty surfaces in a wide range of temperatures and humidity levels. Doesn't that sound useful for all of your camping needs? T-Rex® Tape is specifically designed with UV-resistant materials, which give the tape its famed holding power – inside or outside.
Duct tape has unlimited uses, especially when camping. but we can break them up into two main categories: Repairing Things and Making Things. For example, when our camping tote cracks, we can use duct tape to repair it :
Repair Plastic Camping Tote
Admittedly, it's a bit of a hack and it's not as good as new, but it's pretty damn close. When you're camping, results produced from duct tape repairs are normally good enough to get you through a situation till you return to civilization and have time to buy something new, or get something repaired the right way. With T-Rex® Tape though, we have much more confidence in this repair lasting longer if needed.
Some people think of survival situations when we mention camping preparedness. In an emergency, you could go full Tom Hanks in Castaway and use duct tape to help save your life. You could use it to secure a knife to a pole for spear fishing, use it to help create a shelter, and you can even use it to patch a hole in your best friend, Wilson. A common survival tactic is to use duct tape to create very strong braided rope, and of course you could use that rope to lash together a raft to get you off your private island.
Duct Tape Firewood Carrier
Our camping is a bit less extreme however, so we're more likely to use duct tape to handle more common camping needs. For example, a simple firewood carrier like above can be very useful in camping situations. There are literally thousands of useful ways to use duct tape, but today we're going to focus on some of the most common examples of how you can use duct tape while camping. Let us know on social media if we're missing any of your favorite tips.
Camping Shelter Duct Tape Uses
Shelter is key to survival, and key to comfort when camping. Broken tent poles, leaky tent seams, fraying guylines, and holes in tarps are fairly common problems that you may encounter while camping. Don't fret though, duct tape can fix all of those issues with ease.
Tent seam and tear repair & waterproofing
Tent pole repair (with tent stake reinforcement)
Tarp repair or reinforcement for corners
Rope repair and bundling
Camping chair repair (poles, fabric, etc.)
Camping Tools Duct Tape Uses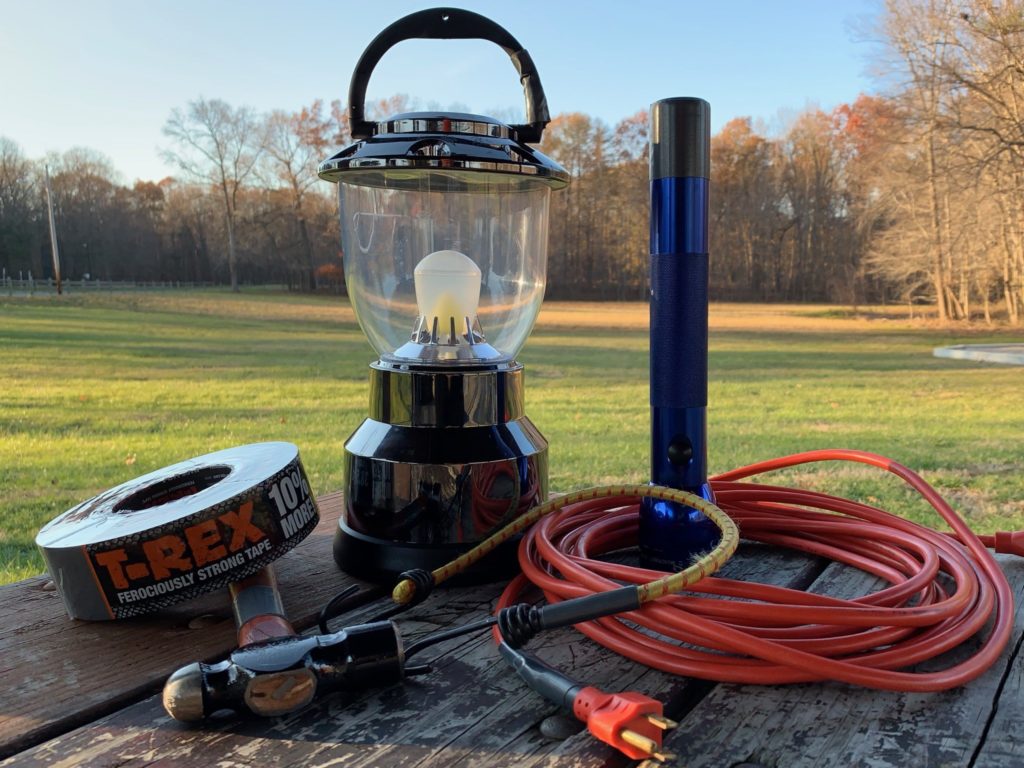 Just like tools in your garage or workshop, camping tools are needed to get the job done right, and sometimes they just stop working. Fraying cords, broken handles, or a loose and leaking seal on a flashlight can all be fixed with duct tape.
Lantern handle repair
Wooden tool handle repair
Flashlight sealing and waterproofing
Electrical cord repair
Bungee cord repair
Camping Clothes Duct Tape Uses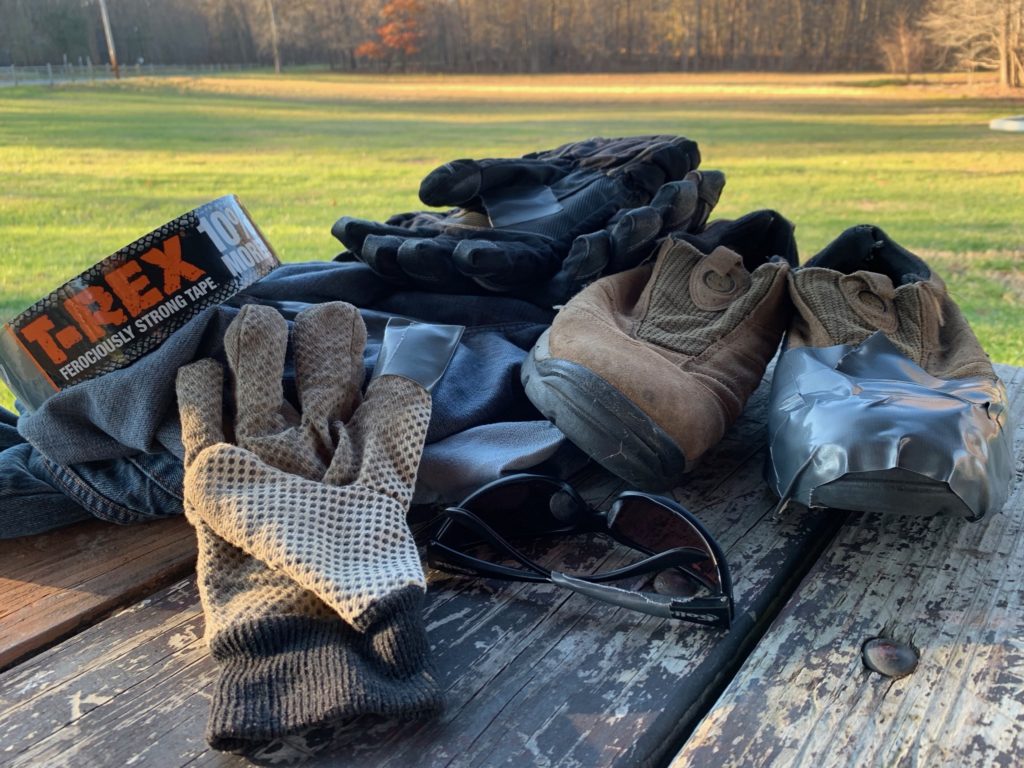 Staying warm and dry is critical when camping, and duct tape can help you out by repairing holes in clothing and even water-proofing your shoes. You can also use duct tape to keep bugs and water away from your legs by taping up your pant legs, or keep sun and wind off your eyes and face.
Shoe repair and waterproofing
Glove repair
Seam repair on jeans
Sunglasses repair
Camp Cooking Duct Tape Uses
Our favorite part of camping is cooking outdoors, either on a fire or a camp stove. You guessed it, duct tape can also be used to help you cook, and our examples focus on either repairing or making a broken or missing dish or utensil. However you can also use duct tape to help manage wind (tape table cloth down or create a wind breaker to control fire), start a fire (it's flammable!) and seal up food packages.
Water bottle repair or insulation
Make a spoon
Cup repair (or make one if needed)
Bowl repair (or make one if needed)
Bonus : Duct Tape Medical Tips
Duct tape is also a useful tool in First Aid situations, which often occur while camping. As you can see above, it can be used as an emergency bandage, a trick that we have used many times in the past. Generally we'd recommend putting a paper towel, tissue, or small piece of fabric on the wound before wrapping it in duct tape, but in a pinch, the tape is better than bleeding out. Duct tape is also a common solution for blisters on feet when hiking. In severe situations with deep wounds, duct tape can be used instead of stitches. In case of a turned ankle, duct tape can be used to wrap and stabilize the ankle. In the case of broken bones, duct tape can be used along with sticks to create a splint. It can also be used between two polls to create a stretcher.
Any Boy Scout will tell you their motto is to Be Prepared, and duct tape is one of the most versatile and useful products you can keep with you to ensure that you are always prepared, especially when camping. T-Rex® Tape is formulated with super-durable, extra-thick, UV-resistant materials to work longer and hold stronger than other utility tapes, in all kinds of weather. It's the best duct tape we've ever used, and we highly recommend you give it a try whether you're camping, or just working around the house.