Five Awesome Private Off-Road Parks
There are many public parks around the USA that provide space for endless amounts of adrenaline-filled experiences, but between and within some of the worlds most known public parks lie private off-road parks that are hidden gems for many individuals who love wheeling. These private parks provide much needed space and exciting new trails ranging from dirt and mud, to rock abundant routes. This diversity ensures that you will have an outrageously fun outdoor experience.
At many private parks, you're allowed more freedom in terms of space, trails, and the kind of vehicles permitted. This is a key difference between these hidden gems and government operated parks. Finding these gems can be a challenging process, so we have put together a list of five awesome private off-road parks that you can visit in the USA. This list is a great place to start but there are hundreds more located throughout the country, so get out there and get dirty!

If the name of this off-road park doesn't excite you enough, wait until you hear about the epic features that this gem location holds. Located in Capon Bridge, WV, this park of 400 acres provides a variety of trails ranging from mild to intensely wild. While this specific park is not currently able to accommodate 4 wheelers or dirt bikes, it is an epic park for 4×4 vehicles, UTVs and other vehicles that they welcome with open arms.
This park features trails that range from rock gardens to hill climbs. This park allows camping during many events, provides discounts at specific hotels, and even offers cabin rentals in terms of accommodation. If you choose to visit this park, be ready for the most adventurous experience, the chaotic way.

This off-road park which is located in Oliver Springs, TN, provides the ultimate off-road experience. This location spans and incredible 73,000 acres, appearing to be one of the largest off-road locations ever. This park contains over 300 miles of epic trails ranging from easy breezy, to extremely difficult. Their trail provided experiences range from gravel roads, rocks, and dirt, to trails with cliffs, and daring boulders.
This off-road park provides a little bit of epic for riders of all different levels. This diverse selection of trail types are so epic at this park, that you're going to need a map. This park also provides a wide selection of other fun attractions like mountain bike trails and even a shooting range. The park also offers a variety of accommodation options that range from cabin rentals and RV sites, to bath houses. WindRock is where you want to go for a rocking experience.

This 7000 acre off-road park is located in Rush, KY. This location is sure to provide you with a rushing experience with its 100 mile stretch of trails. This park is a known host of a variety of events like UTV races and other riding shows. Besides their wide variety of trails, the park also contains a variety of other fun attractions like fishing ponds, providing all around fun for everyone.
Their trail experiences include trails known as Slickrock and Rock God. They also have a variety of 4 mile trails that include Hardcore, Coburn Canyon, and Beaver Dam Pond. As far as lodging, some hotels will provide a discounted rate for this park. The name of this epic off-road park speaks for itself.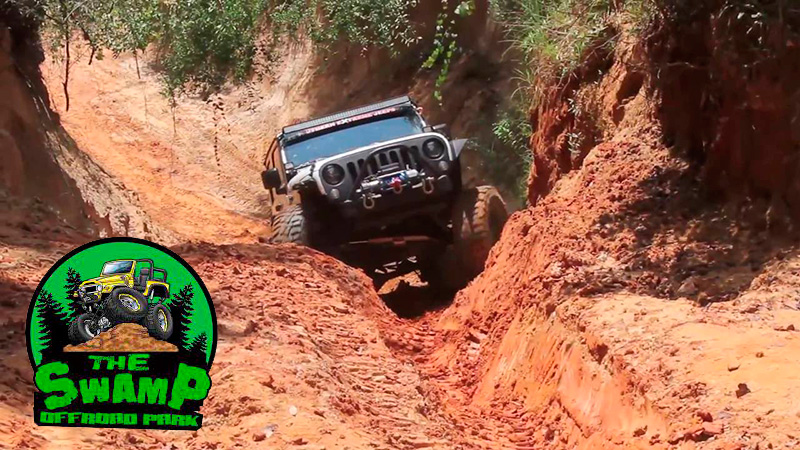 This off-road adventure park has recently expanded, providing even more space for an epic outdoor, off-road experience. Located in Sunny Hills, Florida, this park features epic trails like Swamp Mountain, Posie Falls, and Slip and Slide. With the new expansion, they're planning on adding even more trails to their adventurous variety. This is an excellent location for off-road vehicles with 4 wheels.
This park offers snacks, drinks, food, wash stations, and restrooms. Although camping isn't currently permitted, this location is an epic choice for an epic day of riding. Check out this off-road park for a Swamp of epic activities.
This 3,000 acre outdoor family destination is just one hour away from Austin. Hidden Falls Adventure Park is a hub of adventure with 240 miles of marked trails. You can visit this park with your truck, ATV, jeep, or motorcycle. The terrain in this location is quite forgiving, so you can come with any of your best rides and have fun with your loved ones and friends. The trails are made of all sorts of things you can think about, from rocky dirt to hard packed dirt. You will also find some solid-rock sections during your ride.
Those that want to spend a night or two can get tent and RV camping from the park at affordable prices. You can also take part in fun activities such as hiking, fishing, and mountain biking during your visit.