Getting Muddy in a 2021 Jeep Wrangler Unlimited Rubicon 392
Every once in awhile a vehicle comes along that is so special, yet so amazingly ridiculous, that it leaves a lasting impact. Even for someone like me who has a parade of press loaners, the 2021 Jeep Wrangler Unlimited Rubicon 392 V8 was one of those vehicles. The fact that it exists is almost comical, yet it made me smile every time I drove it. With a starting price at just over $75,000, it's not cheap by any stretch of the imagination. We got a chance to live with this 392 V8-powered Wrangler for a week and it was used for day-to-day errands, and naturally for blasting through mud.
Is it worth the entry price? Let's find out?
About V8 Jeeps
First, let's take a quick look at how, and why, this sucker even exists. The notion of a V8 Jeep Wrangler isn't entirely bonkers, considering the source. The Dodgey part of Fiat-Chrysler…or Stellantis has a history of putting V8 engines in interesting places. So the fact that this Wrangler didn't come with a 707 horsepower Hellcat engine is actually mildly surprising. Perhaps that's next. Remember the Trailcat Concept?
Plus, Jeep itself has had V8 engines in lots of vehicles. Back in the 1960s Jeep was using the 350 cubic inch "Dauntless" V8 (Buick) engine in the J-3000 and the AMC 360 V8 and AMC 401 V8 in the J-4000 "Gladiator" trucks. By the end of the 60s, the 327-cubic inch "Vigilante" four-barrel V8 engine found its way into the Super Wagoneer. By the early 1970s, all Jeep CJ models were offered with available AMC-built 304 and 360-cubic-inch V8 engines.
After a bit of a lull in the 1980s, the 1990s saw the first 5.2L Jeep Grand Cherokee pop up. That eventually led to first real hot rod Jeeps, first a 5.7L HEMI V8 powered Grand Cherokee and then the 6.1L HEMI Jeep Grand Cherokee SRT8 in 2006. Today, the SRT lives on, joined by the Supercharged 6.2L HEMI V8 Trackhawk.
So, it has been four decades since something approximating a Wrangler was given V8 power from the factory. And even then, that AMC V8 in the CJ was pretty abysmal from a horsepower standpoint.
398 Wrangler Overview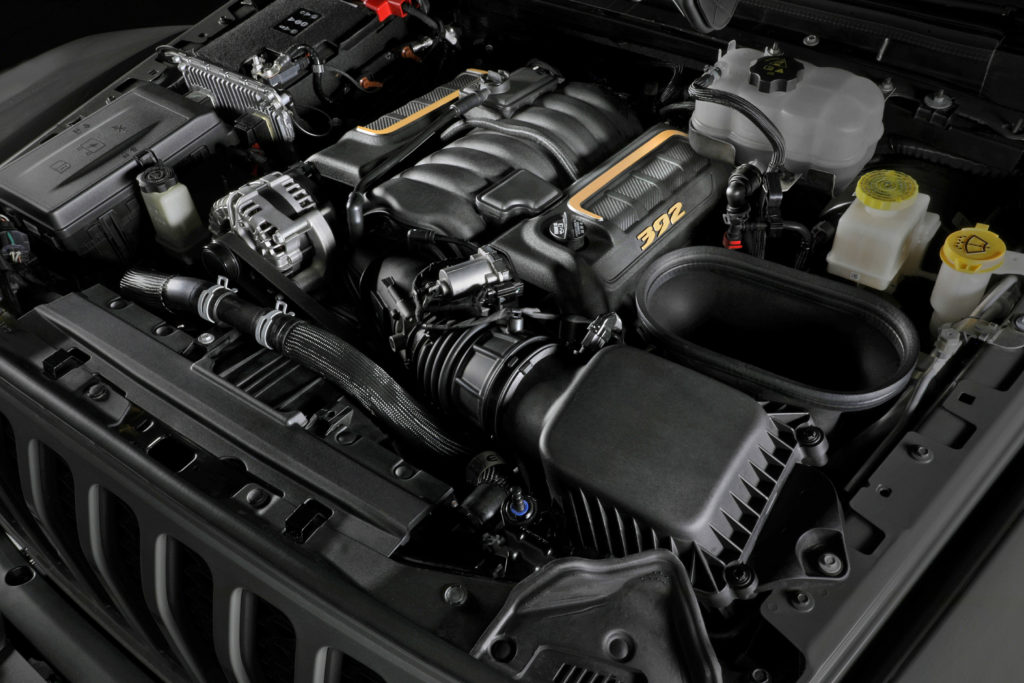 So, what's this new 392 Wrangler thing all about. Well, first and foremost, it's about that V8. The big ole 6.4-liter, 392-cubic-inch V8 is naturally aspirated and puts out 470 horsepower and 470 lb.-ft. of torque. It gets a standard TorqueFlite 8HP75 eight-speed automatic transmission with steering wheel-mounted paddle shifters as the only transmission. Jeep claims that will haul the Wrangler 392 to 60 mph in just 4.5 seconds. That's quick, my 2016 M4 (also a black convertible) is around four seconds.
From an air flow perspective, that hood scoop is functional and is connected to the tri-level Hydro-Guide air intake system feeds cool air to the engine, but can also separate up to 15 gallons of water per minute in wet terrain That means the Rubicon 392 can traverse water up to 32.5 inches deep. My favorite bit was the active dual-mode exhaust which opens valves in the exhaust system under acceleration to reduce exhaust back pressure. Plus, the driver can also activate the system with the press of a button.
And activate it I did, more on that in a bit.
Elsewhere, it's got the off-road gear you would expect including a two-inch factory lift, upgraded frame rails, unique suspension geometry, heavy-duty brakes, and FOX high-performance shocks. That's in addition to the Selec-Trac two-speed transfer case, full-time four-wheel-drive, heavy-duty wide track Dana 44 axles with Tru-Lok electronic locking differentials and electronic front sway-bar disconnect. Our tester had the 285/70R17C Falken Wildpeak M/T tires that made quick work of the trails and weren't bad on road either.
So, basically everything you would expect from a "check all the option boxes" $80,000 Jeep Wrangler.
First Impressions
From the moment the loaner was dropped off, I was combing through it looking at the details. The week before this 392 showed up, I was a JL Jeep owner. That story is over on Hooniverse, but basically because of a confluence of events—including someone totaling my Mustang, and an out-of-control used car market where I sold my 2021 JL 2-door (also black) for more than sticker price—I was no longer a Wrangler owner. But, I was familiar with the JL, and had even recently owned a JK as well.
My first thought is that it needs a bit more drama, a little more sizzle. For $80,000 (easily, with options) I felt like it looked like most other JL Rubicon Unlimited models on the road. Other than the hood scoop, quad exhaust, and "392" badges, it's just not quite audacious enough. I jokingly (OK not jokingly) noted that I was "KING OF THE JEEPS, BOW BEFORE ME" as I drove it around the DC metropolitan area for a week. Other than a Jeep owner or two, and one SRT Charger-driving bro-dude, no one seemed to notice. It's not that I thrive on the admiration of others (I do), especially in a vehicle that isn't mine, but I have to imagine that buyers of such an expensive and unique Jeep might want it to stand out in the crowded Jeep crowd.
Oh well, at least it doesn't have "angry eyes"!
On the interior, it's also fairly typical Jeep Wrangler, which isn't a bad thing. The JL is fantastic, and a huge step forward from the JK. My base-base (roll-up window) JL soft-top was much nicer on the inside than my more expensive "Big Bear Edition" JK Unlimited. Having also recently spent some time in a new JL Rubicon, that's basically what you should expect on the inside of a 392. Sure, it's got some cool seat stitching, and a bit more bolster on the seat, but it's not drastically different than a regular loaded Rubi.
So, outside it's a little pedestrian and on the inside, it's just "well equipped". Where are we making up the more than $20,000 that the 392 costs over the next closest trim level for 2021? That goes up to $30,000 compared to a base Rubicon!
392 On The Road
Well, the active exhaust button right here is worth a good amount. Just listen to that thing! Apologies to those I passed in the tunnel or those whose speakers get blown out.
The very first time I found out what that active exhaust button does, we were pulling back into our neighborhood. I was like "hey now, what's this" and the burble overture started to play through the 392's pipes. It's intoxicating, I would turn it on and just blare the throttle pedal like a conductor.
So. Much. Fun!
Overall, driving the Wrangler 392 on the road was no different than driving just about any modern Wrangler. The tires are big, but they don't drone at speed. The ride can be a little rough, but no worse than any other JL Wrangler. The optional Sky One-Touch power top is $2,000 well spent and you can be mostly top-down at the push of a button. From there, the rear windows can easily snap out and give you that open air Jeep Wrangler feeling. Like any other Wrangler, you can lose the doors, and even the windshield, if you so choose.
In the back, there is room for some stuff, same as any other Wrangler. I've taken two JK's cross country in relative comfort, even slept in one a few times on the first round. A Wrangler, particularly in JL guise, has adapted to becoming a pleasant-to-drive SUV. It's just that it'll get really muddy whenever you want to point it in that direction!
392 in the Mud
Regulars to this site, as well as Gunaxin and the Trail Trek Tour, will recognize the backdrop for the muddiness we subjected our test Jeep to. It's the George Washington National Forest, and for those of us around the DC area, it's just about the closest option for off-road trails. For those hardcore off-roaders, you'll notice that it's not super technical, but it's a lot of fun, especially after a bit of rain.
For whatever reason, we were one of the only vehicles on the trail on this damp Sunday April morning. That put a damper on my "hey, I'll bet I'll see a lot of Jeeps, and they'll be like "OMG392!!11!!~" and I'll bask in their glow of admiration. I literally looked up pensively as I typed that.
That didn't happen though. For whatever reason, on this day, on these trails, there was only one other Jeep. And it was angry. Like an old man trying to send back soup in a deli. Wait, that's a line about the sea from Seinfeld. I got a "Jeep wave" but that's it. I even paused for admiration. Time to press on.
The Wrangler 392 just goes. I'm almost convinced that if you pointed it at a brick wall it would be like "yeah, cool" and just drive straight through it. Out on the trails, I'm not sure it even needs to be in 4WD. It just plows through mud, drives over rocks, and generally just does badass stuff without breaking a sweat. The quad-exhaust does get pretty hot though, but that just gives you cool steamy Instagram shots. But a regular spec Jeep would plow through these trails, heck we beat up some crossovers through here, and they all lived (mostly).
Still, it's hard to overstate just how much fun the Wrangler 392 was out on the muddy trails. Kudos to my patient wife and photographer Kate, who hopped in and out of the 392 over and over to get shots as we pushed our way through the trails. Hey, there she is on the front trail cam!
It was time to keep mudding, and the near-empty trails delivered more and more fun.
Aftermath and Clean-up
During our stop for lunch, I took a moment to admire the dirty girl. During my time in the 392 it did everything I needed it to do, and more. Plus, it looks good muddy. We had a lovely picnic at the end of one of the trails and called it a day, driving back to DC with the muddy battle scars proudly displayed.
Once we got back to civilization, I did something I hardly ever need to do, wash a press loaner. My seven year old helped, and we shined it up, somewhat close to how it looked when we got it. The undercarriage probably needed a good spray though.
Summary
When Wrangler customers said "Hey, what about us. We want a V8 too!", people listened. That's rare, especially in our little enthusiast part of the world. It's clear that there are good people at Fia…Stellantis, and that's really cool. Will the world see a Hellcat powered Wrangler? It's hard to say. There were a few moments of rapid acceleration heading towards a tight turn that I thought "oh, right this isn't a sports car". It is actually taller (74.5 inches) than it is wide (73.8 inches), but the upside is if you end up in a ditch, you can just drive right out. The promo material says it has "heavy duty brakes", which you will 100% need to rapidly slow down a near 500 horsepower Jeep that weighs over 5,100 pounds.
In the end, I was still left wanting a bit more flare, a bit more panache. I wanted a gun turret or some rocket launchers for the price. Or maybe just a bit more badging to make sure that other Jeeps knew who to bow to. But once I was behind the wheel mashing the (very) loud pedal, all was forgiven. The 2021 Jeep Wrangler Unlimited Rubicon 392 V8 is ridiculously capable, and still ridiculously cool.