Schooled By the "Butt Dyno" with FOX Shocks in Colorado
After spending the morning with FOX Shocks in Dacono, Colorado at the IMI Motorsports Complex, we learned from the seat of our pants about the importance of shock absorbers. Through course runs in a stock Jeep followed by three more vehicles with varying degrees of shock absorber upgrades, we tuned our "Butt Dyno" to feel the difference between everyday and professional level equipment.
The vehicles in question were all Jeep models, though the lessons learned would apply to any vehicle on or off the road. For reference, though tire sizes varied, inflation was between 12 and 15 psi on all vehicles present and all vehicles were otherwise street legal as-is (no bead locks, emissions modifications, etc). Passenger load varied by 20-30 pounds, but always included four passengers (two in front seats, two in the rear) for reference.
Starting Bone Stock
We started with a bone stock 2017 Jeep Wrangler JK Unlimited Sport and its factory shock absorbers that are tuned to balance street comfort and off-road capability. With four people in it (already pushing the cargo limits for the rig), this stock Jeep was regularly hitting the skid plates as we high centered and jounced and rolled continuously over the course. At fairly low speeds, averaging under 10 mph for most of the ride.
The course itself was a modified off-road moto course meant for teaching newcomers to motocross how to control their bikes. In a four-wheeled vehicle like the Jeep, the moguls, hard turns, and high rolls were extremely pronounced. Which was the point.
The takeaway with the factory, nearly base model Wrangler? There's a lot of room for improvement in what is mostly a very capable machine. The 4×4 Sport model we were in was respectably capable of getting through the course, but only at slower speeds. Going faster would look epic from the outside, sure, but would result in serious bodily damage to the kidneys, backs, and necks of those inside.
Adding Upgrades To That Stock Wrangler
In a nearly identical 2017 Wrangler Unlimited Sport model, this one with a 2.5-inch suspension lift to accommodate 33-inch BFGoodrich tires (17-inch wheels) and FOX 2.0 Series Shocks, the run around that course was a lot better.
At about the same speed, this modified Wrangler was much more absorbent of the knocks and jounces on the moguls and high hills. It bottomed out only when moving at very high speeds.
The setup on this version of the Jeep is very similar to the suspension setup on the Wrangler Rubicon models, but without the rock climbing add-ons and extra body protection upgrades that model includes. Still jouncy and potentially painful, but not nearly at the level of stock.
Going JL And Getting More Upgrades
From here, we got into a 2020 model Jeep Wrangler (JL gen), which had been modified by RMT Overland (see our RMT Overland Gladiator writeup here). The changes were a level up from the previous Jeep, with a 3.5-inch lift, 35-inch BFGs (17in wheels), and FOX's Performance 2.5 Series shocks.
This time around, the trip around the course was a lot faster–averaging about 15 mph. The loop showed that these further upgrades meant more absorption and stability as the tires were pushed downward into the terrain much harder and bounces were contained far more quickly. The 2.5 Series is a common upgrade for hardcore offroaders who want to add speed to their capability, but still run for relatively short stints. The next step is where professionals come in.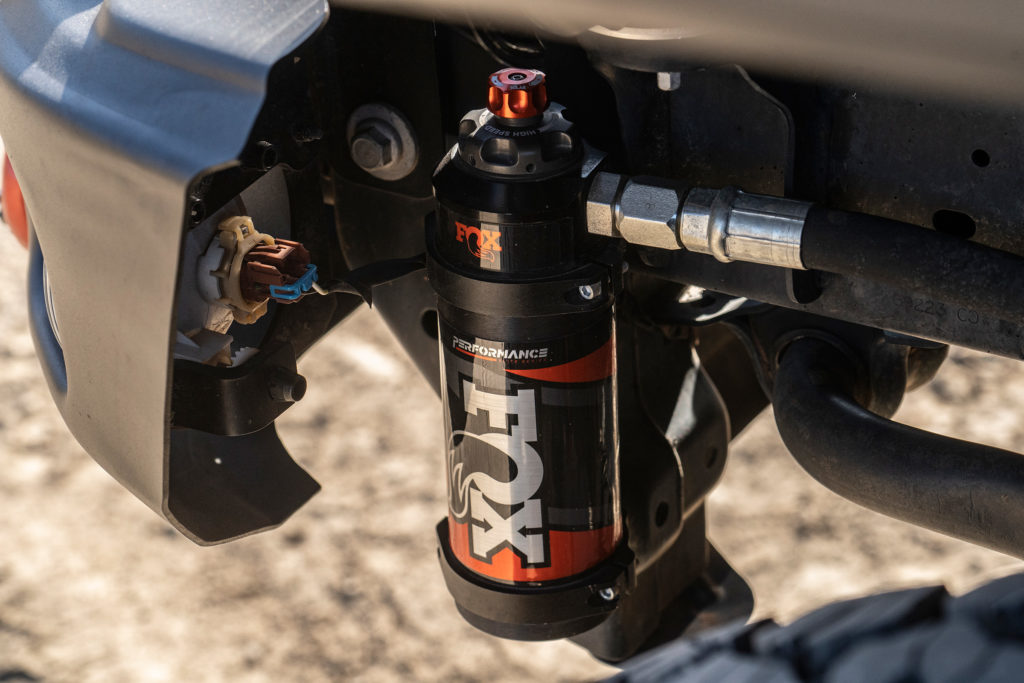 Gladiator With Race Series Hardware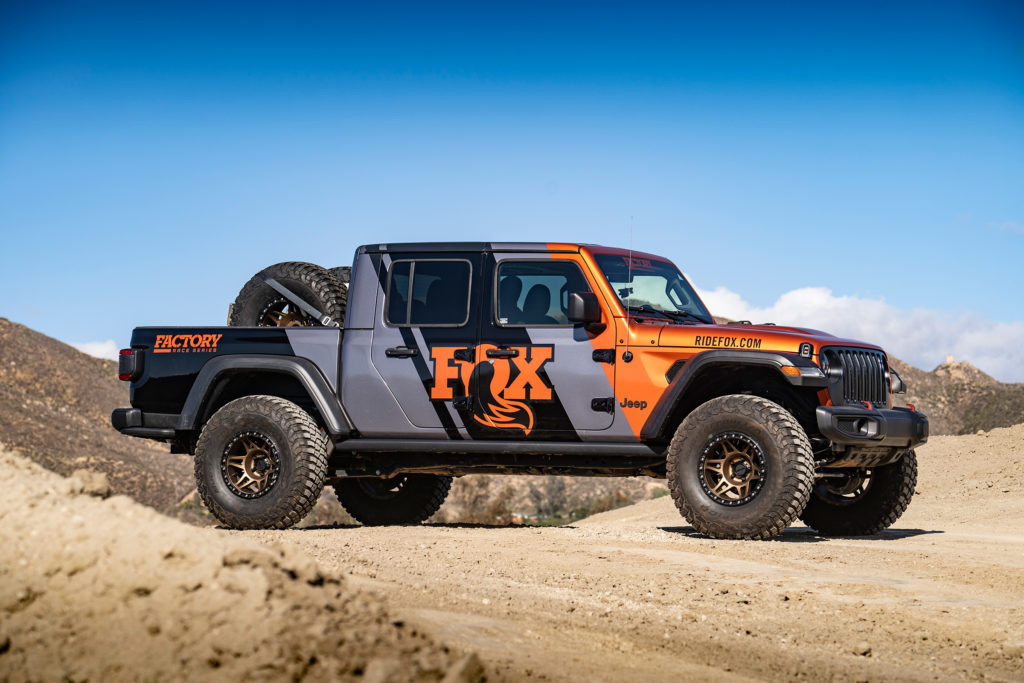 After the still consumer-oriented builds so far, we got into a 2021 Jeep Gladiator JL which had seen significant modifications to its underpinnings. This was a near Baja-ready rig with a 3.5-inch lift, FOX Factory Race Series 3.0 shocks, and 37-inch BFGoodrich KM3 tires on 17-inch wheels. The bed of the truck held two spare tires for counterbalance.
These professional-level shocks add more capability and cooling fins, among other things, to improve their longer-term endurance for harsher use environments. Think endurance racing like the Baja 1000 and the like.
In this rig, we flew over the moguls and high hills without slowing down and body roll was nearly gone as we hit corners and smashed dirt at speeds averaging nearly 30 mph.
What We Learned
The primary takeaway here is that hardware matters a lot. The FOX Performance Series of shock absorbers, including the 2.0 and 2.5 models, are internal floating piston setups with a remote reservoir. These are commonly seen on manufacturer upgrades for off-road-centric models like Toyota's TRD series and Jeep's Rubicon models. The primary difference between the 2.0 and 2.5 is a metal versus aluminum body for heat dissipation and higher adjustability.
The Factory Race Series (3.0) is the first of several pro-level shock absorbers in the FOX line. They have an exclusive internal bypass that allows oil to flow around the piston at some points for improved cooling and pressure control. Along with aluminum fins on the body and reservoir for added cooling.
With any of these setups, the improvement over factory was remarkable. But these upgrades don't come lightly. On the Jeeps present, the upgrades (four shocks plus stabilizer absorber) were $845 on the 2.0, $3,037 for the 2.5 series, and $6,037 for the 3.0 Factory Race shocks. That's just for the shock absorbers themselves, not the other upgrades (lift kits and such) or the installation. It's easy to see how a well-tuned, off-road machine can reach $15,000 and more in upgrade costs alone.
But for those who really want to hit it and hit it hard, there's no compromise. At the very least, your butt dyno will thank you for it.