Gladiator GarageWorks : Hands-On
This post brought to you by Gladiator GarageWorks.
As men, we all watch home improvement or car restoration shows and dream of that absolutely photo perfect garage like the one above. That is the 17-Piece Premier Gladiator Garage Package in Racing Red, and admittedly it's absolutely fabulous. With a garage layout like that, I may actually be able to park a car in my garage. The only problem though is that my garage looks like this…
I have no delusions about ever being able to fit an automobile in our one-car garage, because the garage is home to everything that doesn't fit in the house. To be honest, that photo above was taken after I worked for a few hours to clean and organize the garage enough to take a reasonable photo, and even then I'm only showing you a small portion. While I'm proud of the manly hand-built work bench and peg-board full of tools, it's a fairly rare occasion when the bench is clear enough to actually do work. Our garage is typical of many across the country I assume, a catch-all hodgepodge of different types of storage devices all piled on top of each other. The goal is to make finding anything challenging enough to keep the wife out of the garage, while mitigating my own frustration with the situation by organizing it once per year.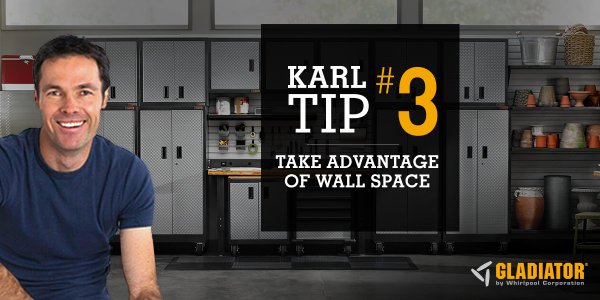 So when we were approached by Gladiator GarageWorks with an opportunity to try a piece of their utopian garage solution to help solve my own real-world garage challenge, I was excited by the opportunity. Of course the first thing I needed to do was clear enough room in the garage to be able to even accept the delivery of the highly-rated Premier Series Modular GearBox. Somehow our garage didn't have a completely empty wall just waiting for a storage solution, nor did I have a smiling Karl Champley available to help me re-organize the space with his delightful accent. Gladiator calls this process "Spring Keeping" rather than spring cleaning, as it empowers you to keep things organized, rather than disposing of them.
With some inspiration and perseverance, I was able to get the Gladiator GearBox into my garage, and it looks fabulous in Racing Red. The quality of the unit is top-notch, and its durability is covered by a lifetime warranty. It's made of steel and can hold up to 1,400 lbs per cabinet, and 65 lbs. per shelf. It comes with big beefy wheels, so I can easily roll it out when I inevitably drop crap behind it. There is stuff lost behind my immovable wooden workbench that I haven't seen since George Bush was in office. The cabinet locks, so I figured it would make the perfect home for my power tools. No longer will they need to be piled on top of each other in random plastic bins, they all fit neatly inside the Gladiator GearBox. If I can remember to lock the door and store the key somewhere other than on the adjacent peg-board, then they'll be secure too.
The slide out drawer makes the tools easy to access, and I put additional power-tools with their own cases on the shelf below. Much to my delight, I discovered the inside of the doors have built-in peg-boards, and I was taught by my father to absolutely love peg-boards. For the moment I've just hung a few things to demonstrate possible uses, but in the future I think those internal peg-boards will probably hold drill-bits, extra saw blades, and other accessories that belong with the power-tools. I'll have to remember where I currently keep those things though, before they can be properly stored in their new home.
The Gladiator GearBox also has a strong top, which gives me an additional flat surface and the perfect places to store my tool boxes. That means the top of my work-bench is currently available for actual work, a fact that has not alluded my wife who is already adding items to the honey-do list. If such organization and happiness can come from one Gladiator GearBox, I'm starting to understand how magical that 17-piece package really must be. Check out some additional views of our new GearBox in the small gallery below :
Gladiator GarageWorks is the perfect partner for any and all "spring keeping" scenarios. Head over to the Gladiator GarageWorks Facebook page to get more "spring keeping" ideas.