Moab Easter Jeep Safari with BFGoodrich Tires
If you're an off-roading enthusiast, visiting Moab in Utah needs to be on your bucket list, and the Easter Jeep Safari is the perfect time to check it off. Moab Easter Jeep Safari began humbly back in 1967, and has grown into the largest off-roading event on the planet, spanning 9 days with over 2000 vehicles enjoying over 125 different trail options in the area. We recently returned from an epic trip to Moab with our friends at BFGoodrich Tires, who are proud to support this premier yearly off-roading event with their BFGoodrich Garage, offering mechanics, tools, patience, and wisdom to help fix Jeeps and get them back on the trail.
This was our first time in Moab, and it definitely did not disappoint. The atmosphere of the town alone during Easter Jeep Safari is enough to make any off-roader happy, as thousands of Jeeps of all variants descend upon the streets and takeover. The only thing you're likely to see more of than Jeeps Wranglers is BFGoodrich Tires, as the Mud-Terrain KM3 tires is clearly the first choice of the wheelin' community, and about half the Jeeps we saw there were running a full set of five. While there are many social activities taking place in town during the event, the main attraction is clearly the trails, and we were delighted to participate in two full-day trail rides during our visit.
The first was a leisurely trek on Shafer Trail, 19.2 miles of ridiculous views and beginner friendly wheeling through Canyonlands National Park. This was a great warm-up during our BFGoodrich led adventure, and we tackled it with a group of 4×4 Vans from Quigley Motor Company. The trail runs along the Colorado River and features beautiful wild flowers, stunning views both at the top and the bottom of the canyon. Here is where I captured what is destined to be my social media profile picture for the next few years:
Shafer Trail was indeed just a warm-up for the main event, as we met up with a large group and headed to Kane Creek Canyon for a BFGoodrich led trail-ride on our second day. It ended up being a very long day on the trail, but also the most fun we've ever had behind the wheel of an automobile.
The views started off stunning and never quit, which we quickly learned was a staple of all trails in the Moab region. This trail was much more difficult, and should only be attempted in a group with modified capable vehicles. There were several rock crawl sections which required spotting, and in-between there were dozens of creek crossings, which were a delight due to an overnight rain.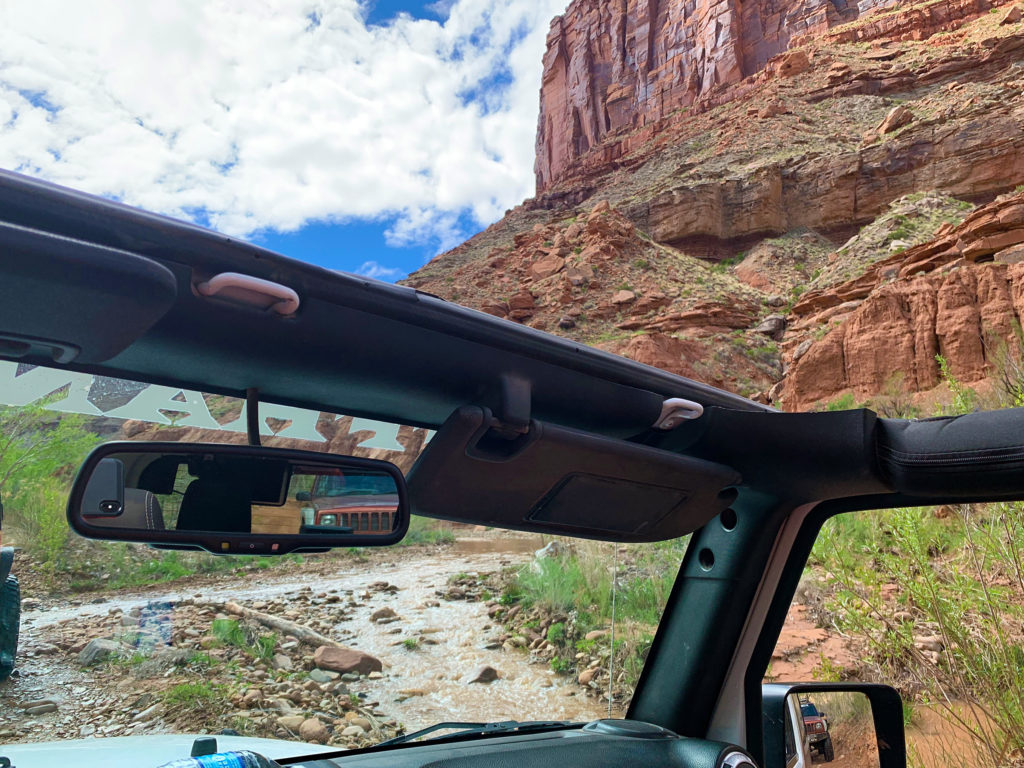 There was a little bit of everything on this trail, including mud, sand, rock, and water. It was the perfect test for BFGoodrich's Mud-Terrain KM3 tires which tackled every obstacle in front of us with ease. Watch our video below for a taste of the action and the stunning scenery:
Kane Creek Canyon Trail is 13.2 miles long and gains 1,358 feet in elevation from start to finish. It was the highlight of our Moab visit, and we can't wait to return to see what other trails in the area have to offer. Thanks to our friends at BFGoodrich for supporting the Moab Easter Jeep Safari, and for hosting us at this amazing event that we will never forget.