Off-Road with Firestone Tires
There are plenty of fun activities you can enjoy with an automobile, but in our humble opinion, off-roading is number one. If you own a four-wheel drive truck or SUV and never take it off paved surfaces, then you are truly missing out. We absolutely love to get our vehicles dirty whenever we have a chance.
So when we needed new tires to do some truck stuff, we knew exactly where to turn. Our current daily driver is a 2008 Hummer H3, with only 55,000 miles on it. If you look at the photo below, you can see that there is still plenty of tread left on our set of Bridgestone Dueler A/T tires, however the rubber is cracking fairly severely. They are the OEM tires, manufactured for the H3 in mid 2007, so they are 8 years old, which is definitely pushing it in terms of tire life.
With an Off-Road excursion already planned for early June, we were dealt a setback when we got a screw in one of the Dueler A/T tires that was declared un-repairable by our local shop, due to the dry rot. So we reached out to the good folks at Firestone for help, to see if we could review a set of their Firestone Destination M/T Tires, that are rated so highly over at Tirerack. A few days later four works of rubber art arrived, and we were ready for installation at our local Firestone Complete Auto Care Center…
Firestone Complete Auto Care Install
To get the Destination M/T Tires installed, we visited the Firestone Complete Auto Care website to schedule an appointment. There are several locations in our area, so we selected the facility that had the highest customer service rating, and scheduled an appointment for installation the next day. You can see the beginning of our installation process in the photo above, with our new tires on the left, and the old tires stacked up on the right. The tread difference between the A/T (All-Terrain) and M/T (Maximum Traction) tires is quite remarkable.
The technicians at the shop were all very helpful, and made sure everything was perfect for our big off-roading trip the next day. As you can see in the photos above, they mounted and balanced the tires and checked our alignment before installing the new set for us. They even cleaned off the blue protective coating from the white walls to make sure everything was looking good for our photos. Below you can see our happy H3 with its brand new shoes, ready to get dirty.
Our installation comes with free tire rotations for life, and since Firestone Complete Auto Care also does oil changes among other services, we'll be taking our vehicle back to that location from now on, to get our tires rotated with each oil change. It was actually the most pleasant experience we've ever had getting a car serviced.
Firestone Destination M/T Tires On-Road
Much to our dismay, it is true that the vast majority of miles that we put on this new set of tires are going to be on paved roads. In fact we had to put about 100 highway miles on them before we even reached the off-road trails. In the month since, we've driven them on a variety of roads in a variety of conditions: hot, cold, dry, wet, really wet. While we were expecting the M/T tires to be noticeably less capable on-road than our previous set of A/T tires, that has proven not to be the case at all. In fact we have better grip in the rain now than we've had with our old set for the past few years. The Destination M/T tires rank best in the segment for Wet Traction at TireRack.com, which is explained by the technology implemented in the tires :
The Destination M/T was the first Firestone light truck tire to use UNI-T Technology to combine off-road traction with enhanced on-road capabilities. UNI-T is a combination of technologies that merge a comprehensive design method with innovative manufacturing features to enhance tire comfort, performance and wear. The Destination M/T features a Long Link Carbon (a special form of molecular re-engineered carbon black) enhanced tread compound to improve wet performance and wear on the road while maintaining cut, tear and abrasion resistance off the road.
Another issue we were concerned about when switching to M/T tires was the road noise. With the Firestone Destination M/T tires, road noise hasn't really been a problem. Yes, we can definitely hear them more with the windows down, but the pitch of the noise is mostly cancelled out with the windows closed, and completely imperceptible once the radio is turned on. Overall we've been quite pleased with the Destination M/T tires for our daily driving on paved roads.
Firestone Destination M/T Tires Off-Road
It was finally time to get the new tires dirty, and our destination of choice was a pair of OHV trails in George Washington National Forest of Virginia. We've ridden the trails before on multiple occasions, and while they are relatively easy, they provide enough of a challenge to be fun for a yearly excursion. They also provided a variety of surfaces to test the Destination M/T tires; dirt, sand, mud, water, and various types of rock.
While it's been over a year since our last visit, we could definitely tell a distinct difference with the new Firestone tires on our vehicle. We were able to drive the trails as slow as we liked without worrying about losing traction, something that has previously not been possible for us. When off-roading, momentum tends to be your friend, but the more capable your tires are, the more confidence you have to get out of places where you otherwise may not stop. You can see some examples of the terrain and where we stopped for photos in the images below.
The Firestone Destination M/T tires ate up every obstacle with ease. We don't recall losing traction or having any issues at all, which is a first for us in the six times we've driven these trails in a variety of vehicles with a variety of tires.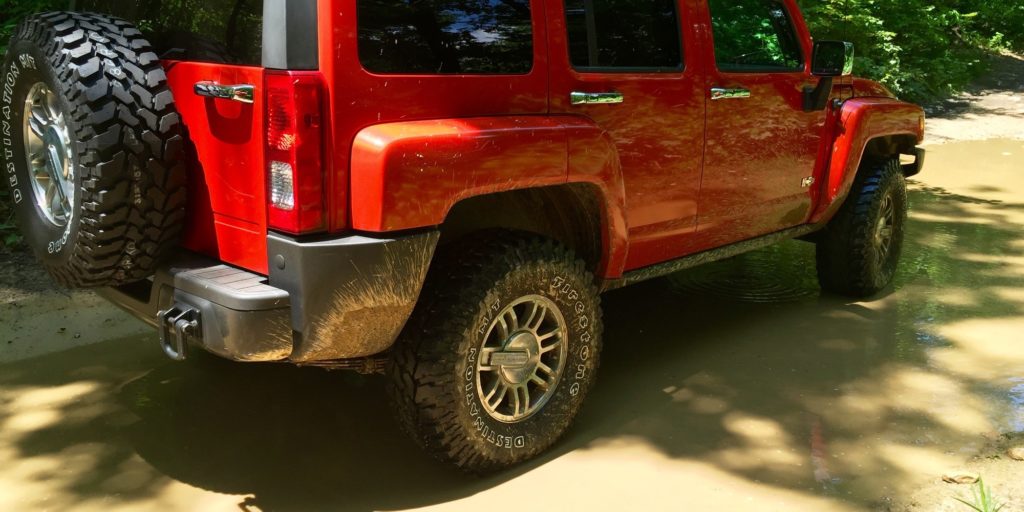 Below we have again quoted TireRack, for some technical details of what makes the Destination M/T tires so capable off-road :
The tread compound is molded into a symmetric tread design comprised of deep lugs and an over-the-shoulder tread/lug design that features alternating width shoulder lugs with a low, 23-degree attack angle to provide the biting edges necessary to dig down, as well as claw at the sides of ruts to generate pulling power. Rim Guard Off-Road Protector Ribs molded on the sidewalls help deflect off-road debris from between the tire bead and rim area, keeping the lower sidewall stiffer and allowing the bead to fit tighter to the rim. The tire's internal structure includes high-tensile, steel cord belts reinforced by a spirally wrapped nylon cap ply with Firestone's Dura-Loc 3.0 (a 3-ply polyester cord body) to enhance durability and highway stability.
Above we have some close-up views of the tires in action, including one which shows a rock lodged in the tread. With the larger tread pattern and lugs, the gaps are also much larger. So while rocks can indeed get stuck in these tires, they are going to be much larger rocks than what normally got caught in our old A/T tires. While we drive over small gravel very often (which got stuck in our old tires), it will probably be a fairly rare occasion to find a rock large enough to get stuck in the Destination M/T tires in our daily driving.
We're not going to lie, those tires look dead sexy on our H3. While performance on and off-road are the practical reasons to make a tire purchase, we do understand that many truck and SUV owners buy tires partially because they look bad-ass on their rigs. In terms of style, the Firestone Destination M/T tires rank high on our list and will certainly turn some heads. However they also perform well and are reasonably priced. We highly recommend making the change from A/T to M/T tires on your vehicle, and suggest Firestone if you are ready to do some truck stuff. They are the best tires that we've ever owned, and we'll leave you with a brief video of them in action :