We Went on a Lamborghini Road Trip to Check out Getaway's Cozy Cabins
There may be no better time to look for a getaway than right now. We have endured two years of pandemic-related stress and days on end sequestered at home. If you are looking to get out of the city and simplify your life for a long weekend, check out the Getaway outposts. They are now in almost 20 locations scattered across the country. Getaway was nice enough to provide us with a cabin in the Catskill mountains in New York for a long weekend. Oh and Lamborghini gave us their new Urus SUV to check out as well. Sounds like a fun weekend, right? Let's see how it went.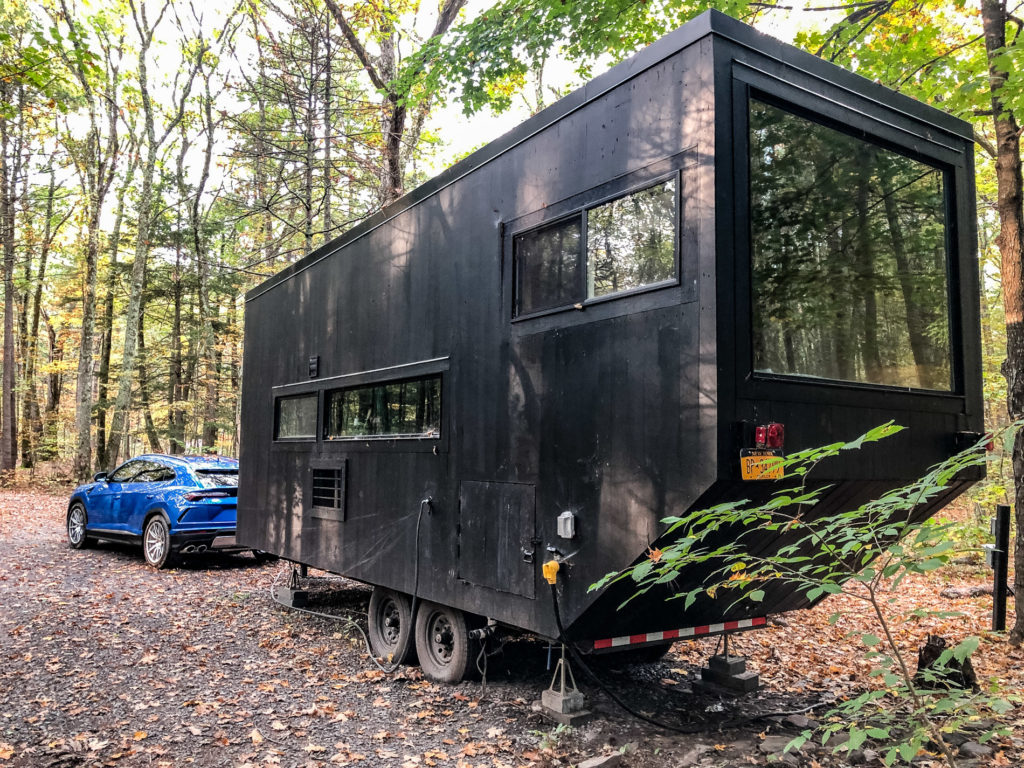 What is Getaway?
Think of it as "glamping", they are cabins built off of a four wheel trailer. It's a black-painted basic box design with a door on the front, a few windows on the side and a massive floor to ceiling window across the back. They are primarily located near larger cities, the goal being that customers can escape the day-to-day madness with a fairly easy drive. This was my second time staying in one, my wife and I stayed in the Shenandoah location awhile back for a romantic…well getaway.
Both sites (called "outposts") were similar, there are no amenities or activities on the grounds. There is barely a sign telling you where to go. They don't even divulge the location until just before you leave, just a general amount of time you should expect to get there. The idea being that are were off on a fun adventure to a mysterious location. That works early on when the outposts are new. Today, most of them have been outed by Instagram posts and other online maps and media, but it's still a fun build-up. They text you in phases to help you get ready and then eventually they provide the exact address and what to bring.
My getaway was in the Western Catskills, which is about 130 miles or so from New York City. I hopped on the train and made the easy trip from DC to NYC, the Lamborghini was waiting for me at Penn Station when I arrived. To say that it was an entertaining conveyance to jaunt off to a getaway cabin is an understatement. The Urus pumps out 641 horsepower from its 4.0L twin-turbocharged V8 and in the right drive setting sounds like an angry animal. Driving the quarter-million dollar car through the city was a little maddening, but once I got out on the rural routes, I was able to stretch its legs a bit. Naturally, New York city being New York City, it took much longer than expected. You can read my review of the Urus here, it's quite a thing. Let's check out the inside of the cabin.

The Cabin
Once you arrive, just punch in the numeric code into the door (that you got via text) and you're ready to relax. What's in the box? No, not Gwyneth Paltrow's head, it's just enough to be comfortable.
A bed, complete with linens, pillows, and a blanket
A (sort of) flushing toilet and a hot shower
Working heat and air-conditioning
A small table and two chairs
A box to sequester your phone
A lantern
An old school phone (no not rotary)
An AM/FM radio
Some light reading material
Your kitchenware includes:
A small fridge
plates, bowls, cups, mugs, and utensils
pot, pan, mixing bowl, and kettle
cutting board
knives and scissors
can opener, bottle opener, and corkscrew
lighters
paper towels and dish soap
salt, pepper, and olive oil
coffee creamer and sugar
coffee + tea (for a small fee)
They also offer some "provisions" for a fee:
S'mores. . . . . . . . . . .$5.00 (Makes four s'mores)
Coffee. . . . . . . . . . . .$2.50
Tea. . . . . . . . . . . . . .$2.50
Hot Chocolate. . . . . .$1.00
Insect Wipes. . . . . . . $1.00
Log Bundle. . . . . . . . $8.00
Firestarter. . . . . . . . . $2.00
As I said, it's enough to be comfortable. Since I took the train, I only had a small carry-on for the Friday to Monday stay. That meant I didn't have to load myself down with gear like I would on a camping trip. I brought some snacks, booze, a book, and my laptop.
The bathrooms is tiny, which makes sense. Thankfully the door swings out into the larger space, just remember the step up to get in. The shower was actually very refreshing with hot water and good water pressure. The toilet is…interesting. It's a "Dry Flush" system that uses a space-age looking foil bag to get rid of your waste. If it's brown, flush it down. If it's yellow, let it mellow. Yep, that just happened.
The Experience
If you haven't stayed in a tiny house, it's kind of awesome. I have a friend who owns one not too far from DC and I spent a couple nights in it and absolutely loved it. His setup is on a generator while the Getaway folks have electrical lines run to each cabin. There are some odd noises here and there in the Getaway cabin that you won't experience in your house. There is a pump that hums to life when you use the sink but generally the only thing you'll hear is silence.
They do a great job of not putting the cabins right near each other. In my two experiences I had a pristine view of nature out of the back. There was even a cool old stone wall running away from the property.
Two people can start to feel like they are on top of each other after a couple of days, but hey that's part of the reason couples go am I right? Know what I mean? Speaking of that, any exhibitionists out there? I see you! Oh, no, just me? You can certainly throw caution to the wind and make it a clothing optional outing (at least inside your cabin) depending on what's out of your windows. Consider it "private" but not "secluded", you'll see other guests driving in and out or walking around to get to the nearby trails.
Once you get tired of each other's company, Getaway provides a handy guide on things to do. I had a super SUV to test, so I had already researched some of the better driving roads and scenery in the area. The guide folds out to reveal a map of nature walks, stores, landmarks, and other cool stuff to go see. I had a 400 mile limit on my Lambo, so I mapped everything out to the mile. The surrounding area was legitimately amazing.
The guide also has some little games to play, ways to relax, and more. It was a handy little thing. I spent most of my time making petrol explode and pass wonderful noises through a nicely tuned Italian exhaust. However, during that I saw a lot of the area and really enjoyed the experience. Among other outings, I had lunch in Woodstock, stopped at a brewpub in Catskill, and saw the Kaaterskill falls.
However, if you want to just hang out at your location, it's pretty cool. I started a fire and sat outside to read for a bit and it was very relaxing. Just the light rustling of the leaves and some chirping birds. It started to rain, so I backed the Urus up to give me some shelter. It costs more than some houses, figured I might as well.
Is It Worth It?
It's not free, prices at this location in New York range from $149 a night up to over $400 for a night, depending on dates. Most summer days it's about $199, so you're looking at around $500 for a weekend. However, the experience is very much worth it though since it's unmatched by most overnight stays. That price will get you an average hotel in most large cities, but if you want to spend the weekend in the woods without hauling all your camping gear, it's a great option to consider.
My criticisms were minimal. The builders used an odd mix of wood on the inside. Anything from horizontal slats to pretty basic looking plywood. The glamour shot above on the right from Getaway's website makes it look a bit better, and my recollection of our visit to the Shenandoah location was that the trim in that cabin was a bit prettier.
I recall the bed being a bit less lofted in my previous stay as well. The bed in the Catskills was pretty high, requiring three steps to get to a landing and then you could hop up on the bed. I can say from experience that a drunk walk to the bathroom and back at night is a little treacherous.
Aside from that, the toilet was "weird" (but sort of entertaining), the floors can get a bit dirty (bring some sandals or slippers), and I didn't find any dish towels to dry my hands (no sink in the bathroom). That's about as critical as I can be, it was a magnificent long weekend. So, if you have a Getaway outpost nearby, give it a shot. Even a night away will be a nice change of pace in this crazy world we're living in.
Disclosure: Getaway and Lamborghini provided a cabin and vehicle (respectively) for the purposes of this review. If you want to read more about the car, check out my feature on Hooniverse!