The Wild Animal Sanctuary in Colorado
Smack in the middle of nowhere, but somehow near the Denver International Airport and a couple of major U.S. highways, is an animal sanctuary dedicated to large carnivores. A place that rescues African lions, Asian tigers, European bears, Northern Wolves, and more. These are animals with no options and plenty of need and they've found some freedom on a 720-acre refuge on the Colorado Plains.
The Wild Animal Sanctuary is at odds with the dairies and agriculture that surrounds it. Yet once you're there, it somehow makes sense. The big, grassy plain and beautiful, flat countryside are a perfect fit for these big animals, most of whom have never seen anything but concrete and cages since they were born. At the Sanctuary, prides of lions roam in large, carefully protected spaces with acres of space and grass under their feet. They're well-fed, receive excellent care, and will live out their lives in relative freedom thanks to heartfelt donations and hard volunteer labor on their behalf.
I packed up my two children and headed down to Colorado for a two day adventure sponsored by Nissan and their new Rogue Sport. We drove more than two hours from our Wyoming home to a little town south of Greeley, Colorado, and several miles north of the Denver International Airport. My girls are 6 and 7 years old and were excited at the prospect of seeing tigers and lions and even having dinner at the sanctuary where they live.
We had all been to the Wild Animal Sanctuary about three years ago, when it was home to a couple of hundred animals. It's since expanded to more than double that, with nearly a mile of elevated pedestrian walkways (we'll get to that) and about 450 rescued animals. And counting.
The Sanctuary has 720 acres of space and is utilizing about half of it, having just erected a new 48,000 square foot (not a typo!) welcome center and visitor's introduction area with a few shops inside and shelter from the inevitable plains storms. The welcome center is the size of a large warehouse and houses beautiful metal sculptures of animals mixed in with those shops. An upper level has platforms for private events and meetings and is where the shelter's founder and director, Pat Craig, often gives presentations to visiting groups and donors.
Once in the huge welcome center, the inevitable rolling rainstorm pushed through the area and we realized that we'd be better off waiting it out inside. We watched the introduction video to the Wild Animal Sanctuary, sitting on wooden benches with other guests of Nissan, learning about the facility and the stories behind some of the animals we'd see there.
The Wild Animal Sanctuary is completely non-profit and accepts no government funding for its operations. It's funded entirely through individual donations by people and corporations as well as through the gate fees paid by visitors to the facility. Its goal is to rescue animals from terrible captivity and educate people about the Captive Wildlife Crisis. Specifically the problem of people keeping large carnivores as pets.
The animals at the Wild Animal Sanctuary are former circus animals, animals that were kept by drug dealers and kingpins, animals kept in small cages as display items at venues, and animals from similar situations. The Sanctuary is the only international large carnivore rescue, having animals taken from terrible captive conditions in South America, Mexico, and the United States.
Thus educated, we walked to an ice cream shop next door to the eatery inside the welcome center. With little kids, this is a key way to pass some time. We waited for the rain to turn back into sunshine.
With the weather past, we walked up some stairs to the upper level of the welcome center and headed out onto the walkways. Those with handicaps will note that there are elevators for access. Once up on the walkway, we realized how huge the facility really is. 720 acres is a lot of space. And we were about 15-20 feet above the ground, an ideal way to see the animals without bothering them. There are currently about a mile of walkways for viewing animals at the facility and more are planned. We could see their progress, which will eventually make a large loop from the Welcome Center around to the old entrance and then back again. Currently, only half of that is complete, but the Sanctuary still has space not being utilized for keeping animals. As those spaces are filled, the walkway will expand to them.
Along the route from the Welcome Center, the elevated pathway (now a Guinness World Record item) passes several smaller enclosures where lions, tigers, bears, and wolves that, for various reasons, cannot assimilate into larger groups are kept. These enclosures are roughly an acre or two in size, depending on the number of animals in each. The Sanctuary considers them a kind of "overflow" area for new arrivals. Because large carnivores are not generally sociable with outsiders, it takes a lot of time for a new arrival to become accepted by another group at the facility. Sometimes those new arrivals come in large bunches, such as the 25 lions rescued from Bolivian circuses last year. So overflow is needed to hold them until they can be more permanently placed within the Sanctuary.
Past those, the large prides of lions and big groups of bears are seen to either side of the platform. The lions are in family groups of one or two males and several females. In the evenings, they tend to get energetic and have a nightly ritual of running to the fence between prides and roaring back and forth like complaining neighbors before settling down, each side sure it was much more forceful than the other this time around. It's pretty spectacular to see and hear.
The bears along the other side generally ignore this, though, and are more interested in swimming in their ponds or wrestling with one another. Left to their own devices, it turns out, bears are quite comical at times and like to prank one another with random swats and sneak attacks. Seeing this, as the bears are oblivious to the visitors, is great fun for adults and children.
More spaces include some foxes, coyotes, timber wolves, and other interesting beasts. The wolves, which act suspiciously like dogs until they begin howling to the sunset, are surprisingly huge once seen closely and from above. This unique perspective at the Sanctuary is great because not only are the wolves moving about in familiar groups and doing their thing, but they respond to one another with a communication that is eerie because it's so mysterious.
At about the halfway point on the walkway is the lion center. This enclosed building continues the walkway above, but has several small pens where lions are kept upon arrival at the facility. These open out to larger outdoor areas where the lions continue to interact with their neighbors, including already-established prides with room for more additions. This process of familiarity and acceptance into a pride can take weeks and sometimes doesn't happen at all, depending on the group's dynamics.
Some lions will not likely ever enter the larger open areas for various reasons – usually due to age or medical issues. Many female circus lions, for example, have been given hormones in order to "mane out" and look like males. Although there is no breeding at the Wild Animal Sanctuary, this added hormonal change can mean a lioness has serious medical problems or will not be accepted by the males of a pride. It's a sad testament to the way animals are often treated in captivity.
After the lion sanctuary there are more bears and then some tigers. The bears are of differing species than the ones seen before, with a huge grizzly being a sort of centerpiece. Lazing in his big pond, as we saw him, the floated around in the water with his head and shoulders up. Also in the large area with him were other grizzlies that were hiding out in shade or burrowed down to sleep off whatever trouble they'd had before. My girls were agape at the size of this huge animal as he yawned with huge teeth and looked disinterestedly at the tigers across from him.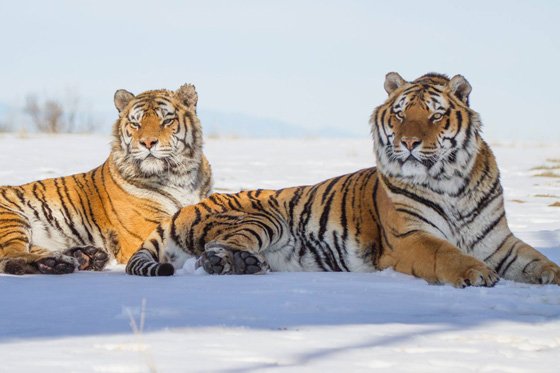 Speaking of tigers.. These are some huge cats. Imagine a housecat that's the size of a car and you've got a tiger. More or less. They are a whole lot bigger than you might think they are. Towards the end of the walkway, past a couple of prides of lions and more tigers, the old entrance cum snack bar, is home to a 3,500 square foot round house that houses the newly-arrived tigers, cheetahs, and other big cats at the facility.
There are currently two huge white tigers there as well as several mountain lions, some Bengal and Asian tigers, and (oddly enough) a porcupine. The tigers have indoor "cages" within the round house that open up to larger pens outside for walking. This keeps them calm in the new facility and allows them to interact through the fence. The larger outdoor run can open to an even larger area where they can physically intermingle as they begin to accept one another. This is how the move from cage life to freedom begins and it's sad to see animals that are so obviously used to seeing bars all of the time. The Sanctuary's volunteers told us that some tigers have never felt the ground at all, just concrete, and are actually afraid of grass when they first arrive.
The return journey from the end of the pathway back to the Welcome Center will surely have you seeing more that you missed the first time. A large dromedary wanders with horses at the far end of the property, some of the foxes might appear and disappear as they move around their underground lairs, and more.
They're doing very good work at the Wild Animal Sanctuary in Colorado. We highly recommend giving it a visit and donating to help them keep that up. We'd like to thank Nissan's Wendy Payne for inviting us to see the Sanctuary. It's something my two little girls will never forget and that we'll definitely be doing again.
Most Photos Borrowed from The Wild Animal Sanctuary.